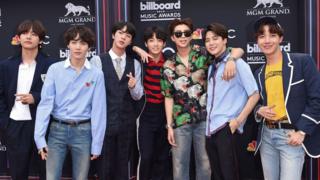 A Japanese TV show has canceled a performance by the very popular K-pop group BTS amid controversy over a shirt worn by one of the band members.
A picture of Jimin wearing a T-shirt depicting the US atomic bombings of Japan killing hundreds of thousands of people who were shared online.
It angered some Japanese BTS fans, calling it "insult".
BTS later apologized to his fans for not being able to perform.
The "Atomic Bomb" T-Shirt also featured Korean Independence slogans.
It was hailed by some in Japan as the bomb that eventually led to the independence of the Korean peninsula from Japanese colonial rule.
Leave a comment