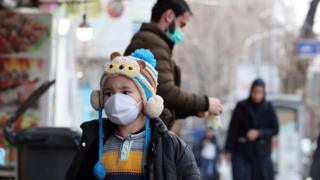 At least 210 people in Iran died of the new coronavirus disease, sources in the country's health care system reported to the BBC Persian.
Most of the victims come from the capital Tehran and the city of Qom, where cases of Covid-19 first emerged.
The figure is six times higher than the official death toll of 34 given by the ministry of health on Friday.
There was no comment from the Iranian government, but insisted that it be transparent about the epidemic.
A member of the Qom parliament accused the authorities of a cover-up earlier this week and the United States has expressed concern that they may not share information.
"We made offers to the Islamic Republic of Iran to help," US Secretary of State Mike Pompeo told a congressional committee in Washington on Friday.
"Their healthcare infrastructure is not solid and, to date, their willingness to share information on what is really going on inside … Iran has not been robust."
More than 83,000 cases of Covid-19 have been reported worldwide and 2,800 deaths since the disease emerged late last year, the vast majority in China.
Growing lack of trust in the authorities
By Kasra Naji, BBC shutter
There are fears in Iran that the government, uncertain about how to manage the epidemic, is covering the extent of the spread of the new coronavirus disease.
Now, a series of figures reported by Persian BBC sources in several hospitals suggest that at least 210 people have died across the country since Thursday evening.
The highest number of deaths are said to be in Tehran, where a disproportionately high number of officials reported being positive for Covid-19, including a vice president, a vice minister and at least two MPs.
Friday prayers in Tehran and 22 other cities have been canceled and schools and universities have been closed until further notice.
Thousands of Iranians have also been blocked inside and outside the country, as many flights have been stopped to and from Iran.