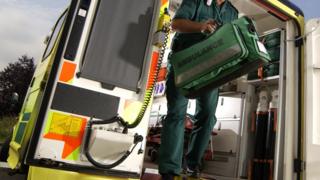 Anyone who coughs up key workers as a threat during the coronavirus crisis will face serious criminal charges.
The prosecutor's warning for England and Wales comes after people who claim to have the virus have reported essential worker addicts.
Max Hill QC said he was "shocked" by the incidents and that all the force of the law would be used.
Two men in England have already been convicted – one of them imprisoned.
Coughing or spitting at key workers – or threats to do so – can be considered crimes if they were intended to harm or cause fear, with criminals accused of common assault.
In England and Wales, a joint assault can lead to six months in prison and attacks on rescuers who perform their duties have a maximum sentence of two years.
Hill said: "Rescuers are more essential than ever since society comes together to address the coronavirus pandemic.
"I am therefore shocked by reports of police officers and other frontline workers who are deliberately coughed up by people who claim to have Covid-19."
"I would like to be very clear: this is a crime and must be stopped. The Crown judicial service is behind emergencies and essential workers and will not hesitate to prosecute anyone who threatens them while carrying out their vital tasks."
On Tuesday, David Mott, 40, spitted against a Lancashire police sergeant, saying he wanted to give her Covid-19.
The officers had ordered him and others to return home under government leadership to remain indoors.
Blackburn magistrates jailed him for 26 weeks yesterday for threats and other crimes.
Also on Wednesday, Darren Rafferty, 45, of Dagenham, in east London, pleaded guilty of serious physical damage to his former partner and three charges of assaulting an emergency room.
During the accident, Rafferty coughed up to the metropolitan police officers, saying he had been infected with Covid-19. He was sent back to pre-trial detention before sentencing on April 1.
A 39-year-old man who claimed to have Covid-19 is due to appear in court in Belfast on Thursday, after he also allegedly coughed against two policemen.
John Apter, president of the England and Wales Police Federation, which represents the official officers, said he spoke to internal secretary Priti Patel this week about such "cowardly" threats.
"I wanted emergency legislation to be introduced to offer greater protection to all 999 workers who have been attacked in this way. There are already available crimes but they are generally minor and do not attract the level of severity they deserve.
"In our campaign for better protection for 999 workers, I have often been a critic of the sometimes light sentences spoken to those who attack my colleagues and those of other emergency services. In this time of crisis, Max Hill's comments are welcome and timely. "
The PSC claims to have prosecuted nearly 20,000 attacks on rescuers since the law entered into force in November 2018.
What should i know about coronavirus?