Several hours before the nation began a 21-day draconian blockade, the president of South Africa, Cyril Ramaphosa, put on an army uniform and gave a speech that captured the historic and desperate nature of the order he had issued.
Speaking to soldiers from a base in Soweto, near Johannesburg, he said to them, "This is your most important mission.
"Many of our people are afraid, they are doubtful and worried … your mission is to restore the life of South Africans."
Troops have not been deployed on the streets of South Africa since the apartheid era, but the president has invited them to help the police in a very restrictive arrest.
All workers, except the essential ones, must remain at home while the government has closed restaurants, pubs, bars and gyms. The sale of alcohol and cigarettes is prohibited and the colored drivers of the country's taxi vans can operate only during limited periods in the morning and evening.
If anyone doubted Mr. Ramaphosa's cabinet resolution, police minister Bheki Cele doubled when he threatened anyone who broke the rules with six months in prison. It is a punishment faced by everyone, even by dog ​​sitters.
"So there is no need to move," he said.
"Before there was a little story where you can walk your dog, [but] there will be no dogs that will be taken for a walk … if you really want to take your dog for a walk [do it] around your house. "
Why did the South African government respond to coronavirus with such vigor? The answer lies in the rapid increase in the number of infected people in the past six days.
Last Friday, authorities said 200 people had contracted the disease, but the total now stands at well over 900. Statisticians at the University of Witwatersrand estimate that one million people could be infected within 40 days if a small number in one location catch.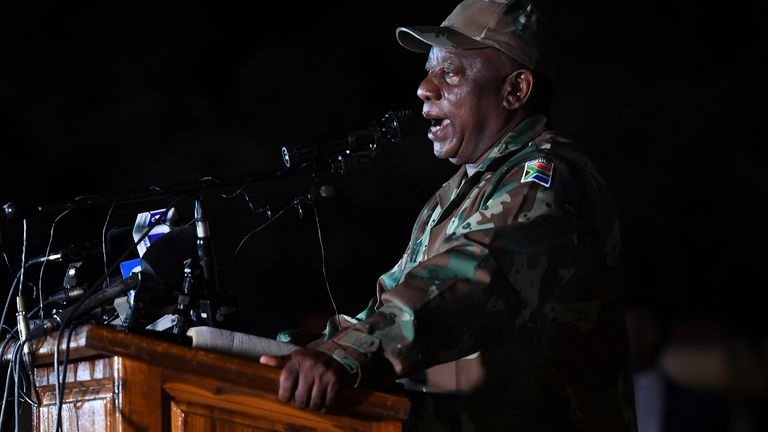 Although this may sound unbelievable, there are millions of people in this country who live and survive in poor villages and settlements with few taps, toilets or sewage services. Overcrowding is a fundamental fact of life. Many share shacks with 10 or more people.
The government knows if COVID-19 it takes root in these communities, it will spread rapidly, sweeping the country's paralyzed health system.
However, social isolation and self-distancing are luxuries that municipal residents can barely afford. Residents have to work – or collect advice and errands on roads and parking lots – or are unlikely to eat. It is another fact of life in South Africa.
While the government executed its blockade nationwide, residents of the poor settlements of the city of Port Elizabeth blocked roads and burned buses to protest poor service and non-existent electricity. Few seemed to understand why President Ramaphosa was bothered by a virus.
"Let's say to the government: our living conditions deserve the same attention as the coronavirus," said community leader Sipho Ntsondwa.
The challenges facing those who run this country are enormous and, with the entry into force of the blockade, the coronavirus represents only one.