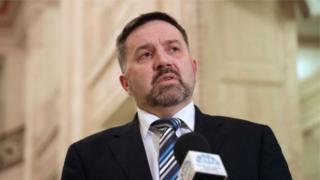 Northern Ireland's health minister said he did not "know what the health service will look like in a week."
Robin Swann was approaching Stormont's health committee and briefing MLAs on surge planning for the Covid-19 outbreak.
Mr. Swann and medical director Michael McBride joined the meeting via Skype.
He was answering a question from the MLL SDLP Colin McGrath.
On Tuesday, the NI chief medical officer informed Stormont that there are many thousands of cases in Northern Ireland and that the virus is more prevalent than statistics indicate.
There have been 209 confirmed cases of coronavirus in Northern Ireland and seven deaths.
Following the outbreak, NHS resources were redirected to treat infected patients with many canceled procedures and appointments.
The Royal College of Surgeons is now warning members that due to Covid-19, some surgeries will be treated differently to protect patients and staff.
He says that while some patients remain a priority, others can be treated with antibiotics rather than surgery.
On Thursday in Stormont, McGrath had asked Mr. Swann for reassurance that any reconfiguration of the service was "temporary" and that the health service would be "able to return to its previous format".
The minister told him he was "perfectly straightforward" and that "I don't know where we will be".
He explained that soaring plans were in place, but said the health service depended on a series of elective procedures and surgeries that he would never have imagined as a health minister.
"To make any kind of commitment now that we're going back to 100% where we were two months ago – I can't give it. I won't give it, because I can't stand it," added Swann.
"Coming soon" fans
Northern Ireland Medical Director Michael McBride also spoke with the committee and confirmed that testing will increase to over 1,100 tests per day next week, with plans to accelerate nationwide in the coming weeks.
He said that they must ensure quality control of test kits obtained from the private sector.
Swann also told the commission that there are 650 fans "currently arriving at the moment" in Northern Ireland.
Meanwhile, Dr. Laurence Dorman, of the Royal College of General Practitioners NI, told the committee that "general practitioners are scared."
He added: "I am scared, I am a father, a husband and I would not want to ask my GP colleagues to do something that I would not do alone."
Dr Dorman was talking about the Covid centers, which have been set up across Northern Ireland as a means of evaluating patients who may have coronavirus.
He said that the centers "are essential", would be located in "essential or overtime trust rooms" and will allow "the use of large-scale disinfection procedures".