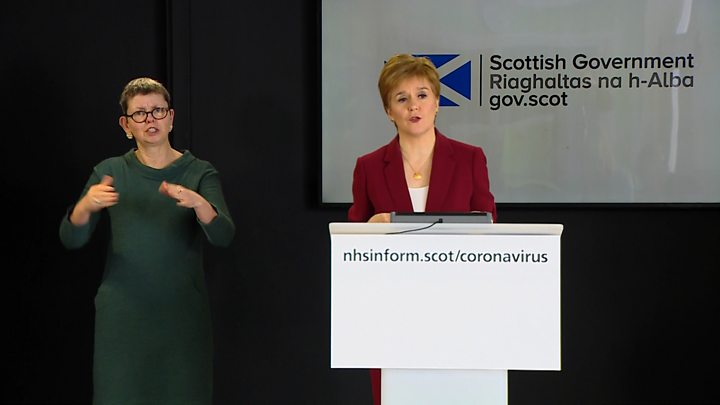 New figures show that 41 people with Covid-19 have now died in Scotland, one of the figures released on Saturday.
Tests have confirmed that 1,384 people have the virus. This shows an increase of 139 confirmed cases.
However, the actual number of cases is believed to be in the tens of thousands because only those severe enough to be hospitalized are currently being tested.
A total of 95 people are in intensive care.
He arrives as the chief Scottish medical officer warned Sunday morning that the restrictions imposed on the movements had taken "at least 13 weeks" to stop the spread.
Speaking at the BBC Radio Four Broadcasting House, Dr. Catherine Calderwood warned that if the measures were lifted before then, it was likely that the virus would continue to be spread among people.
He added that the "disappointing weekend" last weekend of people who "piled up" on the hills and beaches was "the reason why we really pushed people to stay at home except for the very essential shopping trips [and] a little exercise once a day … but really don't see anyone outside your family if possible.
New measures were announced on Monday to limit all movements except the essential ones.
"I think we've seen really good evidence of people moving back to their homes and not leaving nearly as much this week," said Dr. Calderwood.
Experience from other countries has shown that periods of restrictions of less than 13 weeks have led to the re-emergence of the virus "because we have not prevented transmission between many people," he added.
"We've had a fairly significant block type measure in the UK for a week, we know we can tell if that makes the difference between two weeks or three weeks, so that modeling can be used," he added.
Dr. Calderwood said she was "optimistic" to avoid the high death toll from the virus.
He said that if people comply with the restrictions put in place, then the published scenarios that suggest up to 260,000 excess deaths in the UK will not happen.
Dr Calderwood added: "We hope to look at a more optimistic level, given the range of measures we have taken, which are quite extreme, and also given the level of compliance.
"We are very confident that the huge figure of 260,000 excess deaths will not be reality."
The peak of the virus is expected to occur across the UK at approximately the same time, said Dr. Calderwood, but noted that the size of the peak may be different across the country.
"London has been hit very hard, we have seen these numbers rise in the last number of weeks, [with] estimates between two and three weeks [before reaching the peak]," she said.
"Our peaks may be smaller because we currently have fewer cases."
Asked if the capacity of the fan was sufficient, dr. Calderwood reiterated that Scotland had already doubled its capacity and that plans were in place to quadruple the fan capacity that Scotland had before the outbreak.
He added: "Depending on how well these suppression measures work, we think we are getting close to having enough fans for the peak virus outbreak."
During a Sunday afternoon press conference, Nicola Sturgeon announced that over 34 million protective items have been delivered to hospitals across Scotland in recent weeks.
The prime minister added that an eight-week PPE will be delivered early in the week to all general medicine surgeries. Delivery personnel will assist the social care sector with PPE.
Sturgeon also announced a new campaign called "Scotland Cares" to recruit volunteers to help with the coronavirus crisis.
Volunteers can register using the ReadyScotland.org website, where options such as being a healthcare professional or return assistance will be provided.
There will also be options to become a community backup volunteer – coordinated by the Red Cross – to join one of the existing programs or to help with friends or neighbors.