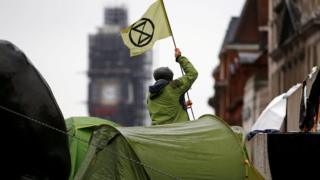 Police defended the inclusion of environmental groups like Extinction Rebellion and Greenpeace in an anti-terrorism guide, claiming that it was produced to help front-line officers.
The Guardian reported that the 24-page police guide was distributed to teachers and medical staff as part of last year's anti-extremism briefings.
They have appeared alongside right-wing extremist groups such as national action.
Extinction Rebellion warned that it could have a "chilling effect" on people.
It comes after counter-terrorism police in south-east England admitted an "error of judgment" earlier this month – after listing Extinction Rebellion as "extreme ideology" in a 12-page guide.
Police error over "extremist" extinction rebellion
Who is arrested for climate change?
According to the Guardian, the police document includes other non-violent groups such as Sea Shepherd ocean pollution activists, the Peta animal rights group and the Campaign for Nuclear Disarmament (CND).
A guide of signs and symbols to which the document refers shows a Nazi swastika in one section and the symbols of extinction rebellion and Greenpeace in another.
Deputy Deputy Commissioner Dean Haydon, senior national coordinator of the British counter-terrorism police, said the police do not consider protest groups to be legitimate extremists or a threat to national security.
He said visual aid was produced with the aim of helping the police "identify and understand signs and symbols" so that they know the difference between them.
In a statement, he said: "The guidance document in question explicitly states that many of the groups included are not of anti-terrorist interest and that belonging to them does not indicate any type of crime.
"Suggesting something else is useful and misleading."
He said the document was used by the government's counter-terrorism strategy, known as the Prevent program, but "only as a guide to help them [Prevent] identify and understand the range of organizations professionals could meet. "
"Chilling effect"
However, Extinction Rebellion claimed that its inclusion in the document was "to say the least by pointing a finger at anyone who thinks otherwise about" business as usual "."
The team said: "The chilling effect is to leave people under control, observed and pressurized, felt altered, shameful or afraid to be open about things they care about like the environment and the world around us."
Kate Hudson, general secretary of the Campaign for Nuclear Disarmament, also questioned the group's inclusion in the leadership, saying it "threatens our right to political commitment and peaceful protest."
"We have no secrets and we act in the public interest," he added.
Greenpeace UK executive director John Sauven said "there is nothing extremist about people from all walks of life taking peaceful and non-violent action to stop climate chaos and ecological collapse."
"Promoting environmental activists and terrorist organizations with the same brush will not help fight terrorism. It will only damage the reputation of hard-working cops."