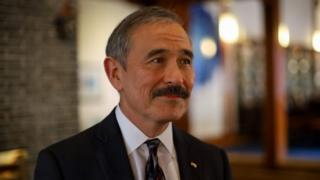 As relations between the United States and South Korea fray, the American ambassador to the country has swept away criticism on an increasingly hairy issue: his mustache.
Harry Harris, a retired naval admiral, has ruffled feathers in South Korea since becoming the U.S. ambassador in 2018.
But recently, it's his facial hair that has left South Koreans bristling.
For some South Koreans, it evokes memories of Japanese colonial rule over the country from 1910 to 1945.
Those who feel offended say that his facial hair is reminiscent of the mustache worn by Japanese governors-general at that time.
Harris, the son of a U.S. Navy officer and a Japanese mother, has already raised tensions by asking South Korea to pay more to host US troops.
But speaking to reporters on Thursday, he suggested that the criticisms stem from his legacy.
"My mustache, for some reason, has become a point of charm here," said Harris. "I was criticized by the media here, especially in social media, because of my ethnic background, because I'm a Japanese-American."
Why the mustache controversy?
Harris, 63, was an ambassador to the United States at a time of heightened tensions between South Korea and Japan.
These tensions flared up in November 2018, when South Korean court rulings ordered Japanese companies to pay compensation to Koreans for forced labor during World War II.
Then, in August 2019, Japan announced that it would remove South Korea's favorite trading partner status, deepening the acronym.
In the context of these controversies, Harris' mustache – and his Japanese heritage – has become more controversial.
In an interview with a local radio station, a ruler of the ruling party confronted him with a governor general of the Japanese government during the colonial period.
That sentiment was picked up by the Korea Times, which last month claimed that Harris' mustache "was associated with the latest American image of irreverence and even coercive towards Korea."
"Harris has often been laughed at for not being an ambassador, but a governor general," added the newspaper.
World War II Japanese military leaders such as Hideki Tojo, Sadao Araki and Shunroku Hata all sported Mr Harris' mustache.
But also other regional leaders, including Chiang Kai-shek, leader of the Chinese nationalist government between 1928 and 1949.
"In fact, it was a common style worn by a number of regional leaders at the time," Professor Niki Alsford, co-director of the International Institute of Korean Studies at the University of Central Lancashire told the BBC.
Therefore, this feeling "largely depends on his [Mr Harris's] Japanese heritage, "added Prof. Alsford.
Harris, who was well shaved for much of his 40-year naval career, told the Korea Times that he had decided to grow a mustache to mark his "new diplomatic life".
The mustache, he told the newspaper, would have remained if someone hadn't convinced him that he was "seen in a way that damages our relationship."
On Thursday, he said he recognized the historical animosity between Japan and South Korea, but added that it would be a mistake to "take that story and tell it to me simply because of a birth accident."
Why are there tensions between the United States and South Korea?
To a large extent, tensions stem from U.S. President Donald Trump's request to South Korea to pay more to host American troops on its territory.
The United States has 28,500 troops in South Korea as part of a security alliance to discourage the aggression of North Korea, which invaded the country in 1950.
Trump has said he wants South Korea to increase its contribution from around $ 900 million (£ 689 million) to around $ 5 billion.
The last round of negotiations ended without agreement in Washington on Wednesday.
Harris said that US negotiators "adapted our position, our highest number" and "now they were waiting for the Korean side to do the same".
There was also dismay for South Korea's diplomatic pledges with North Korea.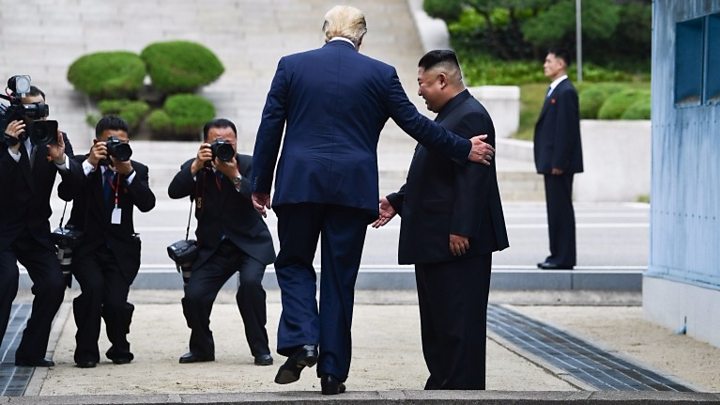 Harris was reprimanded Thursday by the South Korean government for suggesting Seoul to consult Washington on the possibility of reopening tourism in North Korea.
Trump and North Korean leader Kim Jong-un held face-to-face talks in 2018 and last year aimed to denuclearize the Korean peninsula. But discussions stopped as the United States refuses to lift sanctions until North Korea completely abandons its nuclear program.