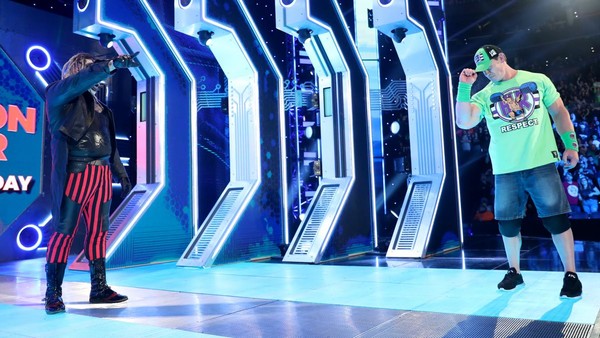 John Cena returned to WWE SmackDown last night, although he probably wished he hadn't bothered, as he now faces The Fiend at WrestleMania (even if he's seen what happened last once they meet at the Show of Shows, it's a slight inconvenience).
Big John ended Friday's episode with effective appreciation by telling the Boston, MA crowd that he had decided to give up on 'Mania this year, based on the fact that the points were to be earned, not required (changed the his melody from a few years ago).
So this was "hello for now", so. Cena said he didn't know when he would be back, and thanked the fans before leaving with only a tear or two in their eyes.
But he didn't get along so easily. Just as Cena was finishing his military salute at the top of the ramp, the lights went out, accompanied by some familiar and diabolical sound effects.
When they returned, the Firefly Fun House presenter himself was obviously there. He pointed to the sign of WrestleMania – because even the manifestations of his repressed psyche can't do it – to which Cena tilted his hat and made the classic "you can't see me" gesture.
In other words, it's on. After what happened to The Fiend at Super ShowDown, John shouldn't be too worried.