Terry Jones, who died at the age of 77, was the Python with a sweetly open, innocent face and a rich voice that often tortured in a high-pitched, strangled warbling for his many "Hello, Mrs Smoker" roles. He was also credited with Python for inspiring the team's constant surrealist denial of the conventional structure. It was Jones who took on the role of director for Monty Python's films: sharing the credit with Terry Gilliam for Monty Python and the Holy Grail in 1975, but taking the helm alone for their masterpiece, Monty Python's The Life of Brian, in 1979 and the rather irregular meaning of Monty Python's The Meaning of Life in 1983. His parallel and post-Python career was successful: with Michael Palin, he created the beloved Ripping Yarns for BBC TV and wrote popular and popular books on the Middle Ages and classical history.
But Jones' face is indelibly imprinted in my mind for the creation of two characters from the film: a good one, a horribly evil one.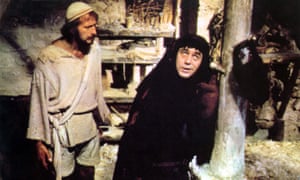 In Brian's Life, she played Mandy, the woman who is initially mistaken for the three wise men for the Virgin Mary, and whose son Brian, in adulthood, is fatally mistaken for the Son of God. Jones' Mandy is one of her classic roles to disguise herself as a lady, and yet she invests this sketchy, bewildered, shrewd character with a strange innocence, and her words continue to live in popular culture. As the crowds of Brian's delusional followers gather outside his humble home, Mandy says, "He's not the Messiah, he's a very bad boy!" And "There is a mess here, but no Messiah!" These lines have been continually renewed by prominent writers and commentators, used forever to pierce the arrogance of politicians and sports stars. It is something in the simplicity of the lines. The mess / messiah that plays on words is so simple, the kind of crazy joke a normal civilian could make, not an Oxbridge ingenuity.
Jones' other claim to film fame is a horrible monster: Mr Creosote, the grotesquely fat wolverine in The Meaning of Life, presented in an elegant French restaurant, chaired by John Cleese's oily maitre d. Mr. Creosote clears his palate by vomiting convulsively all over the place and then proceeds to an explosion, the trigger is a final tick, recklessly "thin", and is incredibly still alive in the end, his stomach and ribcage open. Creosote was co-created by Jones and Palin and rewritten by Cleese and Graham Chapman, and his aggressive greed became legendary, a meme before there were social media to integrate it into. And people forget the last horrible thing about Jones' creation: in the midst of the blood, intestines and sick people who washed the whole floor, Jones reappears as an anti-Semitic cleaning lady who cleans him, thinking that, whatever happened, at least it does not "work for Jews".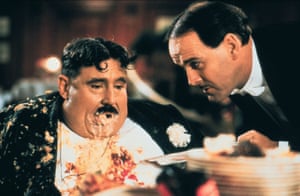 What the heck does Mr Creosote mean? Is it a satire of greed? The arrogance of the rich? Could be. The important thing is that his horrible aggression is abandoned by the maitre, who is indifferent to the others, more polite but evidently less important diners who are angry, but know that they must not make stories. Importantly, the restaurant is a traditional British theater of embarrassment – like the Fawlty Towers dining room – a place where generations of post-war British were terrified that they would appear unsophisticated, or humiliated by waiters, or they would serve bad food and be too scared to complain. If you've ever felt uncomfortable in a restaurant, Mr Creosote is your worst nightmare and your greatest hero: the guy who spectacularly destroys all those painful snobbish rules about fine dining. Or maybe Mr. Creosote is only there to piss us off for the sake of it: an Englishman La Grande Bouffe.
After Python, Jones embarked on a number of projects for film and television, including the writing and directing of a well-received film version of The Wind in the Willows, playing the role of Mr Toad, Steve Coogan as Mole, Eric Idle as Rat and Nicol Williamson as Badger.
But, for me, his most amazing directing release outside of Python was a bizarre film that only becomes more bizarre in retrospect – Personal Services (1987), written by David Leland (who continued writing Wish You Were Here with Emily Lloyd). It is the story of a brothel keeper inspired by the case of Cynthia Payne, whose legal proceedings for her suburban BDSM settlement with her alleged high-level clientele caused many giggles in the press. The film stars Julie Walters as Christine and Danny Schiller in the role of her "maid" – oddly enough, just the kind of drag role that Jones might have created for a Python sketch. The sheer ugliness and malice of Personal Services is what strikes now, not its alleged comedy-comedy value. It is like the last British film about the kitchen sink, a film focused on pure domestic dream.
I last saw Jones on stage in the summer of 2014, in the O2 Arena in London, when he took part in Monty Python Live (Mostly), their extremely profitable reunion show. I remember being stunned and even slightly tearful to see the old gang together. Jones' disease was said to have advanced at that stage, but it seemed absolutely acute to me. It radiated innocence and fun.
.