Maximum number of tests in a round
Last update: 29/06/20 19:42
The Premier League has confirmed that it has received a positive coronavirus test after the eleventh round of mass testing.
The last set of tests is the second since the Premier League was restarted on June 17th.
A statement reads: "The Premier League today can confirm that between Monday 22 June and Sunday 28 June, 2,250 players and club staff have been tested for COVID-19. Of these, one person has proven positive.
"Positive players or club staff will self-isolate for a period of seven days.
"The Premier League provides this aggregate information for the purpose of integrity and transparency of the competition. The League will not provide specific details about the clubs or individuals and the results will be made public after each trial."
The results of each test round are reported every Monday due to match planning, but clubs will continue to test players and staff twice a week. Testing will continue for the rest of this season.
A total of 19 people gave positive results out of a total of 14,307 tests [0.13 per cent] since the Premier League started testing all players and staff en masse in May.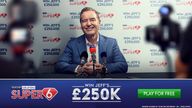 Super 6 winners back to back?
Don't miss your chance to win the £ 250,000 jackpot for the sixth time this season on Saturday. Play for free.
.