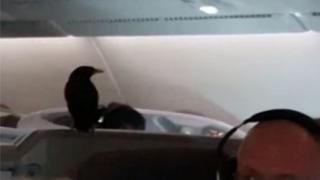 A feathered passenger was spotted 12 hours on a 14-hour flight between Singapore and London.
The Stowaway, a Mynah bird, appeared in the Business Class of a Singapore Airlines flight last Monday.
A spokesman for the airline confirmed the incident a week later and said the bird had finally been caught.
A Facebook video shows how it makes itself comfortable on a headrest before a flight attendant makes a failed attempt to grab it.