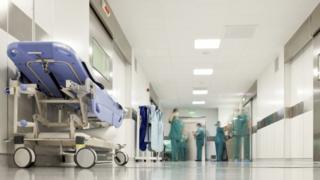 Health Secretary Matt Hancock has hinted that the government could eliminate the four-hour wait target in A&E.
Hospitals must aim to ensure that 95% of patients are seen within the time limit, but in November all major A&E units in England failed to meet the target.
The government has been accused of sliding standards of treatment.
But Hancock said that BBC Radio 5 Live ministers should be judged on the "right goal" and a "clinically appropriate" one would be needed.
Waiting time targets were reviewed by Theresa May in 2018.
But Labor's shadow health secretary, Jonathan Ashworth, said changing them "will not solve the problems in our overcrowded hospitals, with patients left on trolleys in the corridors for hours on end."
Questioned by Nicky Campbell about missed goals, Hancock admitted that there were "big challenges" in the NHS in terms of waiting times, claiming that it was due to an increase in the number of people being treated in accidents and emergency units.
He said the government has put another £ 33.9 billion into service to help – read the BBC reality check on this pledge here.
Asked if the four-hour target would stay, he replied: "We will be judged by the right targets. The targets must be clinically appropriate."
Hancock said there is a "problem" with the four-hour goal as "the best way to measure what's going on in hospitals".
"[For example], more and more people can be treated on the day and able to go home [without staying overnight].
"This is much better for the patient, it is also better for the NHS and yet the way it is counted … doesn't work."
The health secretary said that "it is much better to have clinically appropriate goals supported by clinicians, so doctors are examining it," adding: "It is better that it be guided by doctors."
The review launched by Ms. May has not yet been completed, but an interim report was produced in March 2019 by NHS England's national medical director, prof. Steve Powis.
It proposed three new objectives: to use the average waiting time as the main measure (instead of the 95% threshold); record how long patients wait before being clinically evaluated after their arrival; and check how long the most seriously ill patients wait before their treatment is completed.
Boris Johnson's government has not committed to recommendations.
'Move the goal posts'
During the Prime Minister's questions, Jeremy Corbyn raised the problem of growing waiting times, calling for "urgent action".
Boris Johnson said the Labor leader was "right to report the delays that people are facing" and were "unacceptable".
However, he made no reference to any change in goals, saying instead: "We will lower those waiting lists."
Mr. Ashworth of Labor said: "Any revision of the targets must be transparent and based on watertight clinical evidence, otherwise patients will think that Matt Hancock is trying to move the stakes to avoid checking government data.
"After years of austerity under the Tories, the government's first priority must be to provide the NHS with the funding and staff needed to end the waiting time crisis."