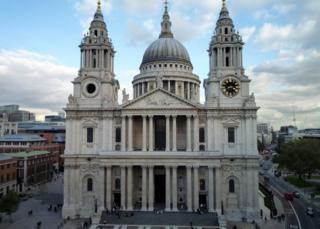 A supporter of the terrorist group banished by the Islamic State admitted that he planned to explode in a bomb attack on St Paul's Cathedral.
Safiyya Shaikh, of Hayes, west of London, embarked on a reconnaissance trip to explore the London landmark and a hotel.
The 36-year-old Michelle Ramsden was arrested after asking an undercover police officer to supply bombs.
At Old Bailey she has admitted to preparing a terrorist act and will be sentenced in May.
In the two months prior to his arrest in October 2019, Shaikh established a relationship with two incognito officers who were acting like an extremist team of husband and wife.
He sent them one by one via an encrypted social media app.
'Bomb under the dome'
"I want to kill a lot," he said to the officer. "I would like to go to church … one day like Christmas or Easter, kill more.
"I always send threats. But I want to make them real."
He sent a picture of St Paul's Cathedral to the officer and wrote: "I would definitely like to make this place.
"I would like to bomb and shoot to the death … I would really like to destroy that place and the kaffir [enemies of IS] There."
A little over a week later he visited San Paolo and sent videos to his contact, writing: "I will do it to the bomb under the dome.
"I'll also do something in the hotel, then in church, then I'll kill until I'm dead."
By September 24, Shaikh's plan had come together.
Prosecutors say they delivered two bags that he wanted to be equipped with homemade bombs to the female undercover officer.
She was later arrested.