Anthony Joshua is convinced that his rivalry with Andy Ruiz Jr. will go beyond the Saudi Arabian dunes, where he will try to regain his heavyweight title belt on Saturday night.
Joshua is expected to weigh up to half a stone more easily for the rematch than he was when his belts were ripped off during one of the division's biggest riots in June.
However, after Joshua held a fleeting public training session in Riyadh on Tuesday, he said that this was not the end of the story.
To an enthusiastic, if exclusive, crowd of local fans, Joshua said, "Me and Andy Ruiz are definitely going to see us somewhere down the line a third time.
"I think we are doing good fighting. I think there will be a knockout because people want to see that – bloodshed and knockouts. And we'll definitely see each other a third time. "
Joshua's sleek physique supported the theory that he intentionally cut down to be more agile in avoiding his opponent's bombshells, which dropped him four times on the screen in New York.
But his trainer Rob McCracken downplayed the importance of the apparent weight loss, which was hard to detect as Joshua just went through the crowd's movements and kept his T-shirt on.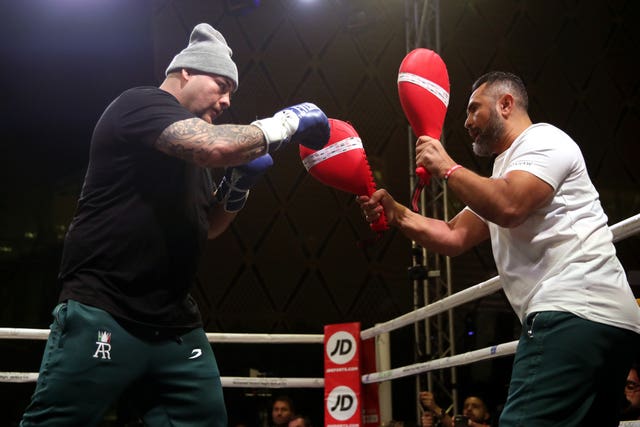 In contrast, Ruiz Jr. wore a woolen hat for a complete session with gloves on when the sun went down quickly in the Saudi capital. He suggested that the fight, which takes place on Saturday at midnight, could be a very cool affair.
McCracken told the PA news agency, "The plan is to get a little easier, but only because we've trained a bit more and are in a slightly better shape.
"He has more sparring and more running this time, which is easy to say because he did not win the first fight, but for this fight he is definitely in better shape.
"I am much happier than at this time of June, obviously you had the late back before the last fight and it was not ideal, this time they had a lot of attention and it's a fair game."
Joshua and Ruiz Jr., housed in separate wings of the same luxury hotel, will face each other for the first time in the Fight Week when performing on Wednesday at the closing press conference of the fight in Diriyah.
The pair has shown a lot of respect in the setup, and that's not likely to change that fast. Joshua focused solely on eliminating the pain of his shock loss on his debut in the US six months ago.
"Last time, I washed skin off and rebuilt myself," Joshua added. "This time I'm looking for nothing but victory, it's not about speed, the goal is just to win."