One of the great new features of Google Android 10 updateDark Theme is now available on all Pixel devices and on a growing list of other Android phones.
It's basically a dark mode for your entire device, turning over the color palette of all menus and almost all native Google apps, including YouTube and Chrome. It also works with some third-party apps like Instagram and Reddit. Expect the list of supported apps to expand over time as well.
Why is that a big deal? Considering that your screen is your phone's biggest battery drain, pumping out less light between charges should take longer. According to Google, Dark Theme can "significantly reduce power consumption," depending on the screen technology of the device being used.
According to Google, Dark Theme also improves visibility for users who are sensitive to bright light or have visual impairments. In addition, it is generally advisable to avoid a bright display of the phone in low light conditions and at night, so it may be worthwhile turning it on in the evening.
After all, some people simply prefer a darker look to their phone and may decide to keep it running all the time.
Dark Theme is just a small part of Android 10, previously referred to as Android Q. The update also includes iOS-style gesture navigation, privacy features, and a focus mode that disables notifications.
But we are here to teach you how to use Dark Theme on your Android device. If you follow the steps below, you can easily do this.
To activate the dark mode of Android 10
There are three ways to enable Dark Theme: we will go through each step below.
Method 1: Change Your System Settings
Image 1 of 2
Picture 2 of 2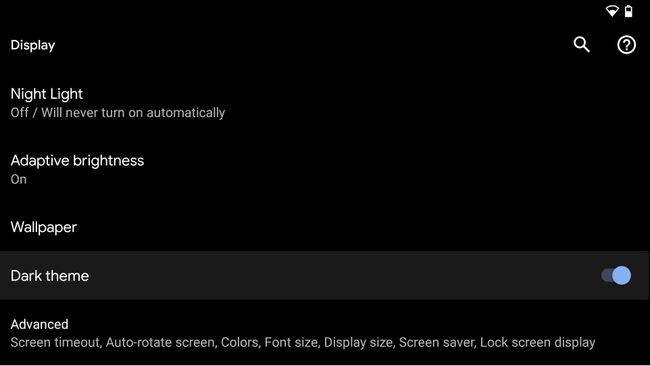 You can activate Dark Theme directly in your system settings. All you have to do is tap the settings icon – it's the little gear in your pull-down notification bar – and then click on "Display."
You'll see a dark topic switch: tap to turn it on and it's ready to go.
Method 2: Quick Settings
If you do not want to scroll through your settings every time you need a dark design, there is a much faster option for pinning it to your quick settings. These are the large tiles that appear when you pull down the notification bar.
Drag the notification bar all the way down until a large grid of tiles appears to add Dark Theme to your Quick Settings. You may need to drag the notification bar down twice: you want it to look like the image below. Then tap the pencil icon at the bottom of the drawer
Image 1 of 2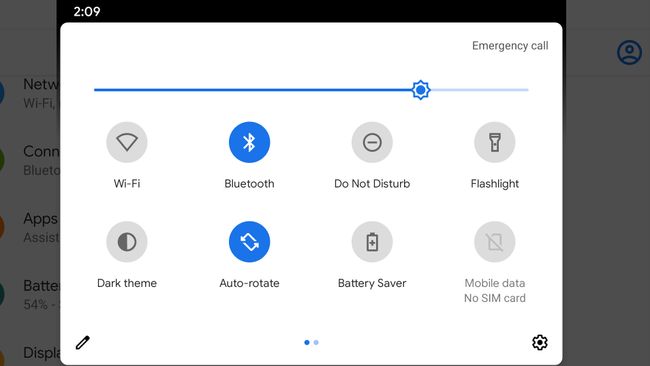 Picture 2 of 2
This opens a separate stack of icons that you can add to your tiles (right-click on the image above to see what this looks like).
Hold down the Dark Theme icon and drag it to the topmost folder next to the Wi-Fi, Airplane Mode, and Battery Saver icons (the Dark Theme icon is at the top right). If you drop it at the top of the grid, it also appears in the narrower toolbar that appears when you drag the notification bar down for the first time.
Press the Back button to exit the menu. You can now enable Dark Theme by dragging the notification bar down and tapping the icon.
Method 3 (Pixel phones only): Battery Saver mode
For Pixel Handsets, selecting the Battery Saver mode in the drop-down notification bar automatically turns on the dark design.
Remember that you also activate any other battery saver feature. This means that you disable your location and some background processes. Therefore, you really only want to use this feature if you have very little juice left.
After turning on Dark Theme, you can enjoy your new look and possibly your improved battery life. Dark Theme automatically targets Google's native apps, including Gmail, YouTube, and Google Photos.
It will also work with a growing number of third-party apps, though some may require an extra step at their end.
In the Reddit app, for example, you need to set the automatic night mode to "Follow the system" in the app settings menu. If your favorite apps are not getting dark automatically, scroll through their settings to see if you can apply them yourself.