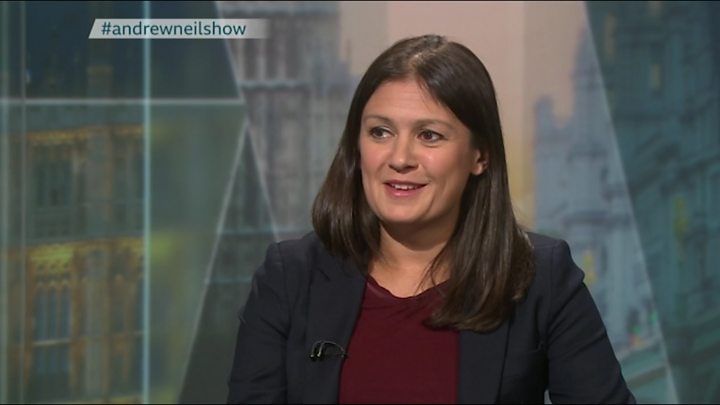 A candidate for Labor leadership said the UK should "look to Catalonia" for lessons on how to defeat Scottish nationalism.
Lisa Nandy made the comments claiming that a "social justice program" could beat "divisive nationalism".
Hundreds of people were injured when the Spanish authorities used force to try and stop the independence referendum in Catalonia in 2017.
Nicola Sturgeon said that people would be "mortified" by Nandy's observations.
And the only Scottish Labor MP, Ian Murray, has warned all candidates in the party leadership contest that they shouldn't "come to Scotland and talk about things you're not quite sure what you're talking about".
In an interview with the BBC's Andrew Neil Show, Nandy said that socialists around the world have been "beaten and beaten" by nationalists.
He added: "We should look outside to other countries and other parts of the world where they have had to deal with divisive nationalism and try to find out the lessons in which, in these short moments of history in places like Catalonia and the Quebec, we managed to beat tight divisional nationalism with a social justice agenda. "
Explanation of Catalonia's quarrel with Spain
Wigan's MP was challenged by Neil, who made her understand that the SNP's mark of nationalism is not "tough" and instead goes "hand in hand with social justice".
Nandy replies that it is appropriate for the SNP to keep the debate on independence alive because it means that no one in Scotland "is paying attention to their record, which is frankly frightening".
And he said he doesn't want another vote on independence because "I think this country has had enough referendums."
In a referendum of 1 October 2017, which was declared illegal by the Spanish Constitutional Court, around 90% of the voters supported Catalan independence, although the vote was boycotted by most opponents of independence and turnout at the polls it was only 43%.
The referendum was ruined by violent clashes when the police used batons and fired rubber bullets in an attempt to prevent it.
Nine Catalan independence leaders were subsequently imprisoned for nine to 13 years for their role in organizing the vote, with convictions sparking further violent clashes between police and demonstrators.
In a blog post published after the interview, Nandy said that the socialists in Catalonia "peacefully resist the advance of separatists for years."
And he argued that "recent indications suggest that their democratic efforts could be successful" and that there are "signs of hope for their approach to socialism and solidarity – which is in stark contrast to the unjustified violence we have seen from the Spanish police who operates under the instruction of The then Spanish Prime Minister, Mariano Rajoy, could still win. "
Nandy's remarks were raised at the Scottish parliament on Thursday, with Sturgeon saying he believes the Labor MP "has not paid attention to what has really happened in Catalonia in recent times."
The prime minister added: "If he had, he surely would not have suggested that there were positive lessons to be drawn from it.
"Maybe Lisa Nandy should take this opportunity to clarify exactly what she meant, acknowledge the concern it has caused and perhaps even apologize for that."
Meanwhile, Murray expressed his disappointment at Ms Nandy's intervention as she officially launched her campaign for deputy party leadership.
The South Edinburgh MP said to reporters, "I am saying this to all the leaders and deputy candidates: please don't come to Scotland and talk about things you're not quite sure what you're talking about."
Nandy is one of five candidates remaining in the competition to replace Jeremy Corbyn as Labor leader, with the winner announced on April 4.