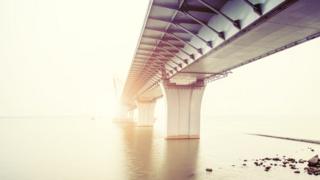 Building a bridge from Northern Ireland to Scotland is like "adding a conservatory to a leaky house," said the UK's largest transportation agency.
Monday, n. 10 revealed that work is underway "by a number of government officials" to examine the idea.
However, the Freight Transport Association (FTA) said that "it is difficult to overcome the economic and practical barriers" of a £ 20 billion project.
So the "Boris bridge" can rise from the seas or died in the water?
A live proposal
Prime Minister Boris Johnson described the bridge as "a very interesting idea".
However, Northern Ireland politicians gave the proposal a mixed reception.
Sinn Féin, SDLP, Ulster Unionists and Alliance Party have all expressed skepticism.
Northern Ireland's infrastructure minister Nichola Mallon wrote to transportation secretary Grant Shapps on Friday to express concern that a feasibility study had been commissioned without his department being consulted, as well as the transportation secretary. Scottish Michael Matheson.
Scottish Prime Minister Nicola Sturgeon had previously claimed that his mind was not closed to the idea, but added that "if he [the prime minister] he has £ 20 billion to build such a bridge while saving money, which could be spent on more important priorities. "
Taoiseach (Irish Prime Minister) Leo Varadkar said he would not reject the idea, but insisted that the UK have to pay for it.
DUP MP Paul Girvan MP believes it has potential.
"Any maritime link project will also bring the necessary investments in coastal areas in Northern Ireland and Scotland, as well as bring major investments in the road infrastructure of South Antrim and East Antrim," said Girvan.
Girvan also hit opponents, who he said were "ideologically motivated" and "try to weaken Northern Ireland's place in the UK".
A matter of mathematics
An economist believes that plans for the bridge "will probably sink into oblivion."
Esmond Birnie of Ulster University insisted that any benefit is unlikely to exceed a construction cost of "£ 20 billion more, or even £ 30 billion" and that "even on the most optimistic assumptions, the benefits will be less than the possible cost. "
The NI-GB and GB-NI trade from reduced transportation costs, shorter travel times on the road than by sea and the potential for greater interaction between businesses in Belfast and central Scotland.
"None of this certainly says" don't build ", and it's worth pointing out that a bridge would help the regional economy in what is one of the poorest parts of Scotland, the south west," he said.
"But it is indicative that a small part of the project budget spent in other ways (investment in education and applied sciences) could yield higher returns.
"I think the most likely outcome is that the Department of Transportation and the HM Treasury will eventually produce a report that says more or less as above, and at that point the PM will let it sink into oblivion."
Neil Gibson, chief economist at EY Ireland, said that with "the critical phase of the Brexit negotiations going on", the feasibility of a bridge over the Irish Sea is now "a more urgent task to focus on".
"The commercial benefits are complex to measure," he said.
"There would be a number of costs to consider, including the loss of business for existing transport companies, the costs for users and the costs of the surrounding infrastructure needed to connect both ends to their respective transport networks.
"A full cost-benefit analysis would be needed to determine its value in relation to the status quo and other options for improving trade, but there seem to be more pressing problems at this point."
The business case
While a bridge would pose an obvious threat to the future of ferry operators, none of the major suppliers operating from Larne wanted to comment on the prospects at this stage.
The Confederation of British Industry (CBI) and those who run Belfast Harbor believe it is "too early to say anything either way".
However, the Freight Transport Association said that building a bridge would be "similar to building a conservatory on our house as the roof loses."
Northern Ireland politician Seamus Leheny said: "£ 20 billion would radically transform our infrastructure in Northern Ireland and the way we transfer people and goods, leaving enough for health and education.
"The potential post-Brexit economic benefits are still difficult to define.
"It could perhaps make the transfer of goods to and from Northern Ireland cheaper, even though a toll would be likely and the trucks would use fuel, as well as impacting the hours of drivers, so the costs would still be there.
"This sounds great in theory, but the more you analyze the concept, it is difficult to overcome economic and practical barriers. I think for some it is a bit like a child who is constantly promised that he will go on vacation to Disneyland but inevitably never happens" .
Deep concern
If the finances for such a large infrastructure project weren't enough to make it, there is also the small matter of Dyke of Beaufort – the UK's largest offshore dumping site for conventional and chemical ammunition after World War II.
The deep pit is seven miles from Portpatrick and the Ministry of Defense estimates that there are 1.2 million tons of ammunition left on the bottom, as well as two tons of concrete-coated drums full of chemical and radioactive waste.
Robin Rickard, an unexploded ordnance expert (UXO), has "significant concerns" about plans for a bridge and believes that facing the risk could see a spiral of costs.
He cites the example of the Riffgat wind farm outside Germany's cost, which has been dormant for more than a year while experts disposed of ammunition before the cables could be laid.
Upon completion of the work, the UXO element had added £ 100 million reported to the account.
"With bad experiences of laying cables through explosive sites, I would suggest that the crossing should avoid such threats entirely or employ a floating support structure," added Rickard.
Engineering consultant David Fletcher said that placing bridge bridges in the middle of Beaufort Dyke would be "extremely dangerous", with jobs that could "potentially lead to chemical losses which in turn could lead to significant environmental hazards".
He also expressed concern that the logistics of the project could easily see a spiral of costs.
"Construction will depend heavily on weather conditions and the North Channel is known for its unpredictable winds and strong currents," he added.
"In order not to interfere with the expedition, the bridge should be raised to a height that provides sufficient space. This could be done in selected places but this would cause navigation problems.
"A single column damaged by shipping or terrorism could put the bridge out of action for months and could be extremely difficult to repair."